With the longer days, warmer weather, and abundant blossoms, I just can't stop taking pictures of flowers when I'm out in nature.
* * * * * * * * * *
For those of you new to the Twosday link-up, the rules are simple:
1. Share two photos every Tuesday with minimal words.
(If you share your posts on Twitter, be sure to use the hashtag #TwosdayLinkUp )
2. Remember to grab the button below or link back in your post so more people can join the Twosday party.
3. Visit 2 other entries and share some love. Let's support and encourage each other to pick up our cameras (or phones!) and play a little!
Next week's theme: Dinner & Drinks (food, beverages, fun times - and whatever else happens when you have dinner & drinks!)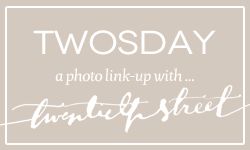 Last Week's Most Viewed Back in Time: La Maman Heureuse
The whole point of taking pictures is so that you don't have to explain things with words. -Elliott Erwitt
xo