One block down the street, we have a little community garden that's perfectly lovely for a morning stroll.
* * * * * * * * * *
For those of you new to the Twosday link-up, the rules are simple:
1. Share two photos every Tuesday with minimal words.
(If you share your posts on Twitter, be sure to use the hashtag #TwosdayLinkUp )
2. Remember to grab the button below or link back in your post so more people can join the Twosday party.
3. Visit 2 other entries and share some love. Let's support and encourage each other to pick up our cameras (or phones!) and play a little!
Next week's theme: Hobbies (Show us your favorite hobbies!)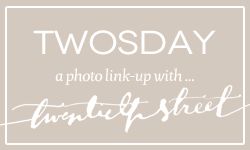 Last Week's Most Viewed Windows & Doors: From Foothills to Fog
Join us, and add your link below!
The whole point of taking pictures is so that you don't have to explain things with words. -Elliott Erwitt