They call me mellow yellow ... We all live in a yellow submarine ... Yeah, they were all yellow ... And a big yellow taxi come and took away my old man ...
Who knew the color yellow inspired so many good songs?
* * * * * * * * * *
For those of you new to the Twosday link-up, the rules are simple:
1. Share two photos every Tuesday with minimal words.
2. Remember to grab the button below or link back in your post so more people can join the Twosday party.
3. Visit 2 other entries and share some love. Let's support and encourage each other to pick up our cameras (or phones!) and play a little!
Next week's theme: Get Low (get down and shoot from a low angle)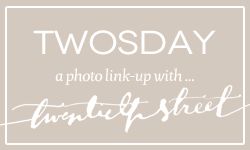 Last week's Most Viewed: Write Meg
Add your link below!
xo