I love how macro shots make ordinary things so abstract and graphic. Up top, magazines. Down below, dirt on a plant leaf.
* * * * * * * * * *
For those of you new to the Twosday link-up, the rules are simple:
1. Share two photos every Tuesday with minimal words.
2. Remember to grab the button below or link back in your post so more people can join the Twosday party.
3. Visit 2 other entries and share some love. Let's support and encourage each other to pick up our cameras (or phones!) and play a little!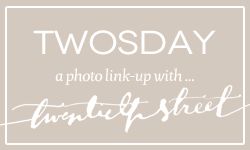 March Themes:
Last week's Most Viewed: Kimberly, Daily
xo