I finally got my blogger ish together enough to make a little button for our Twosday link ups so we can spread the photo love. If you'd like to join, just enter your link below & grab the button to include in your post!
Not sure what Twosday is? It's simple -
two photos posted every Tuesday with little to no words included.
The photos can be whatever you want, taken whenever it's convenient for you with whatever camera you have (the ones above were shot on Sunday with my iPhone) and, of course, if you want to include a few words that's entirely up to you. The goal, though, is to let the photos speak for themselves. A photo is worth a thousand words, right? So, in theory, that would make Twosday a 2,000-word wordless post. Mind blown.
(Not really.)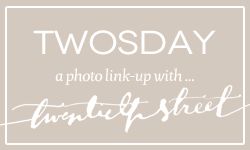 Add your link and show us what caught your eye this week!