To chocolate milk or not to chocolate milk.
That is the question.
Normally, I drink it every morning.
And every evening.
And after my workouts.
Because Lance Armstrong drinks it after his workouts.
But Lance Armstrong also dopes up pre-workout (allegedly).
So maybe that's not the best reason to drink it.
The best reason is that it's so sweet and smooth. So creamy and delicious.
So satisfying in every way.
Almost like a drug.
No wonder Lance loves it...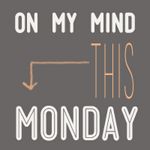 What's on your mind this Monday?