... to bombard y'all with "test" posts tonight! I just created a new button for the blog. I wanted something more consistent with the title banner - the old one just said "Big Mario." What do you think? (If you previously grabbed the old button (
thank you!!
), be sure to grab the updated code for the new one over on the left.)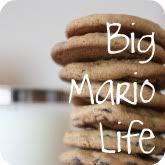 I also added a Photography section over in the left-hand column. The current button is for my 52 Weeks Project. Just click on that to see all posts with the label "52 Weeks." I'm planning on creating a button for my Flickr account, too, but I can't decide which photo I want to use for it!!